What is the difference between Cocktail Shakers?
Author: Siobhan Thomson Date Posted:9 November 2020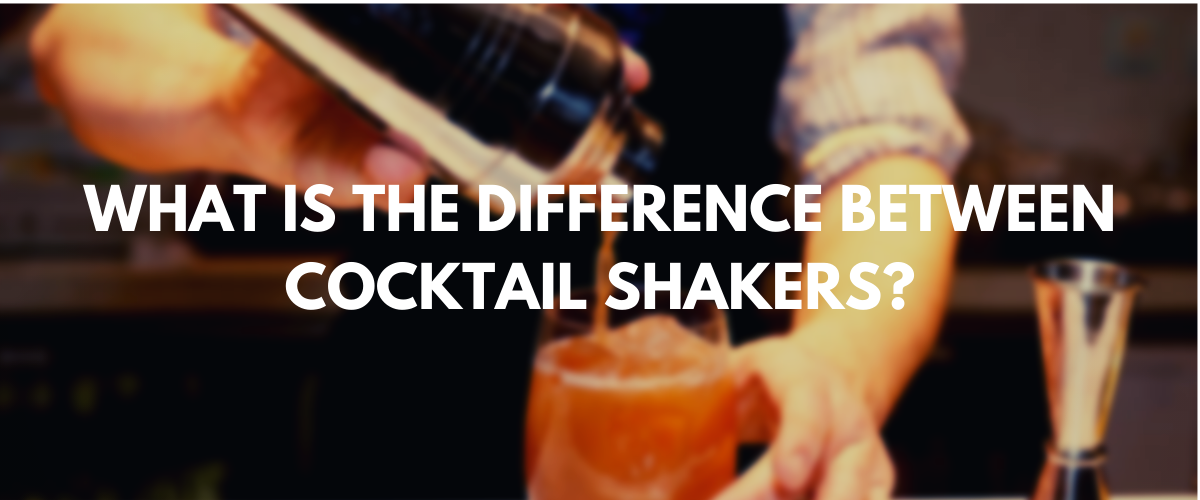 Have you ever spent any time shopping for cocktail shakers? If so, you may have noticed there are several different styles available. The three most common shakers are the Cobbler (3-piece shaker), Boston and French. Here we aim to teach you a little about the difference between these so you can make the right choice for your bar, be it a Commercial Bar or your very own At-Home bar.
When it comes to mixology the shaker is the engine of any cocktail bar. They allow ingredients to be mixed and chilled with minimal dilution and maximum performance. After a stylish shake and pour, your cocktail will be ready for service.
So which Cocktail Shaker is best for you?
1. The Cobbler (otherwise known as the 3-Piece)
Also known as a 'Three-Piece' shaker, the Cobbler Shaker includes a metal tin, a tightly fitting lid with integrated strainer and cap. Thanks to the strainer, the Cobbler Shaker is a sensible choice for beginners and casual home bartenders. However, there are some downsides too. Pouring drinks from Cobbler Shakers tends to take more time, they hold smaller volumes and and the tin can contract due to the cold which makes taking it apart difficult.

Pros:
Easy to use - great for newbies!

Integrated strainer means no other accessories are required

Less dilution - smaller capacity means less ice is required
Cons:
Small shaker capacity can be problematic for use in busy bars

Changes in temperature can result in the 3 components becoming difficult to separate

More parts mean cleaning can take longer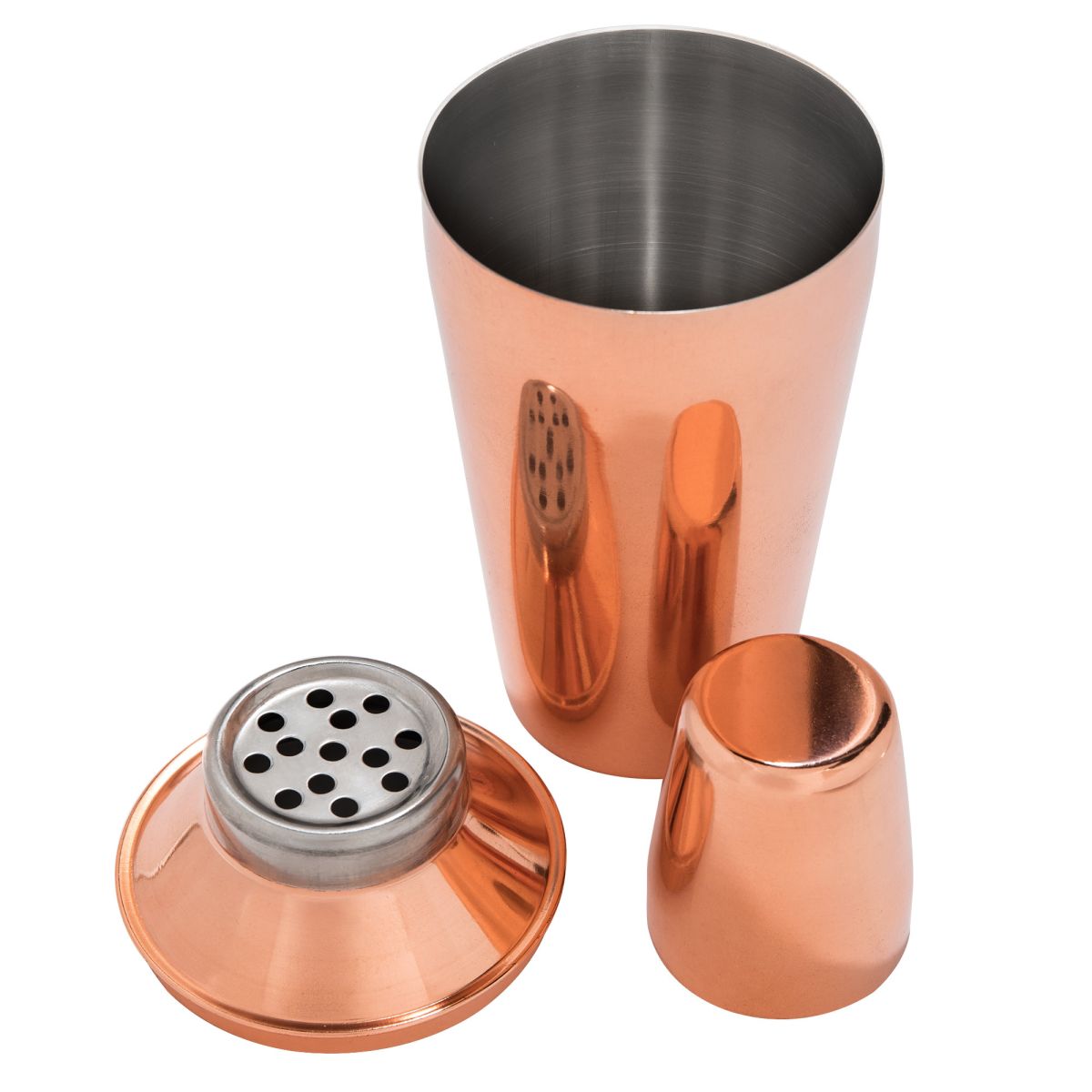 2. The Boston Shaker
This is the shaker that most busy professionals use and you will find it behind most busy bars. The Boston tin is considered to be an American style of shaker. The Boston shaker comprises of a weighted tin, often 28oz which accommodates a smaller tin or glass. The accompanying tin is usually has a capacity of 18oz or more traditionally is paired with a toughened 16 oz Boston glass.

The two separate cups are sealed together by placing the larger upside down over the smaller and sealing them together. After a vigorous shake, give the top tin a firm hit to release the cans.

Pros
With practice they become easy to seal and reopen

Very easy to clean between making different drinks

High volume is great for busy bars and serving at parties

Use of separate strainer allows for finer, smoother cocktails

Cons
Requires an accompanying strainer

Shakers paired with a weighted Boston glass increase the risk of breakage

Practise is required to correctly seal and reopen - learn to get the "whack" right!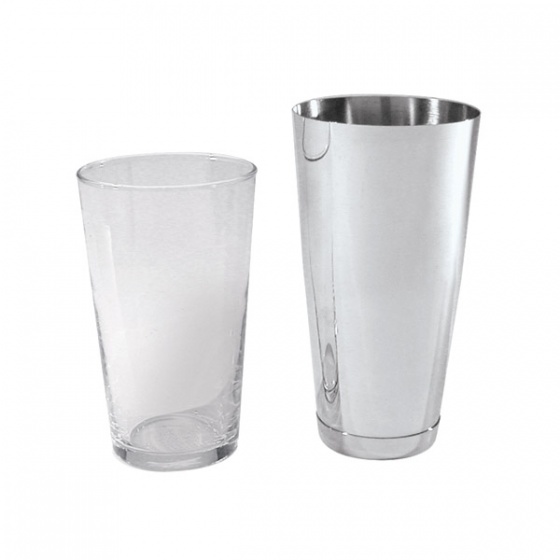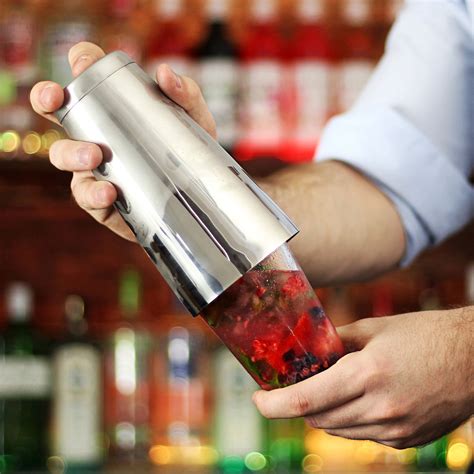 3. The French Shaker
The French (or Parisian) shaker has been used as far back as 1878. It is a great intermediate option and falls between the Cobbler and Boston shaker for ease of use. In one sense, the French Shaker is similar to a Boston shaker, as they come in two parts and require a separate strainer. In another, they resemble the Cobbler, as they share a similar silhouette and tightly fitting lid. Appealingly on-trend in appearance and fully functional, this is a great shaker for those who already have cocktail making accessories.
Like a Boston shaker, the two sections fit together to form a seal, but with French shakers, the top half tapers inward to join neatly with the bottom. This makes the French shaker rather less intimidating to get to grips with, and allows you to get on with the serious business of knocking up that well deserved cocktail!

Pros
The timeless Art Deco styling looks great behind any bar

The sound - the ice rattling within the tightly sealed tins just sings cocktail bar!

The stainless steel (or copper) construction allows ingredients to chill quickly and evenly

Cons
No strainer included!

Like the Boston can, it can take practice to seal and reopen

Tight seal between cans can catch ingredients - be sure to clean this area thoroughly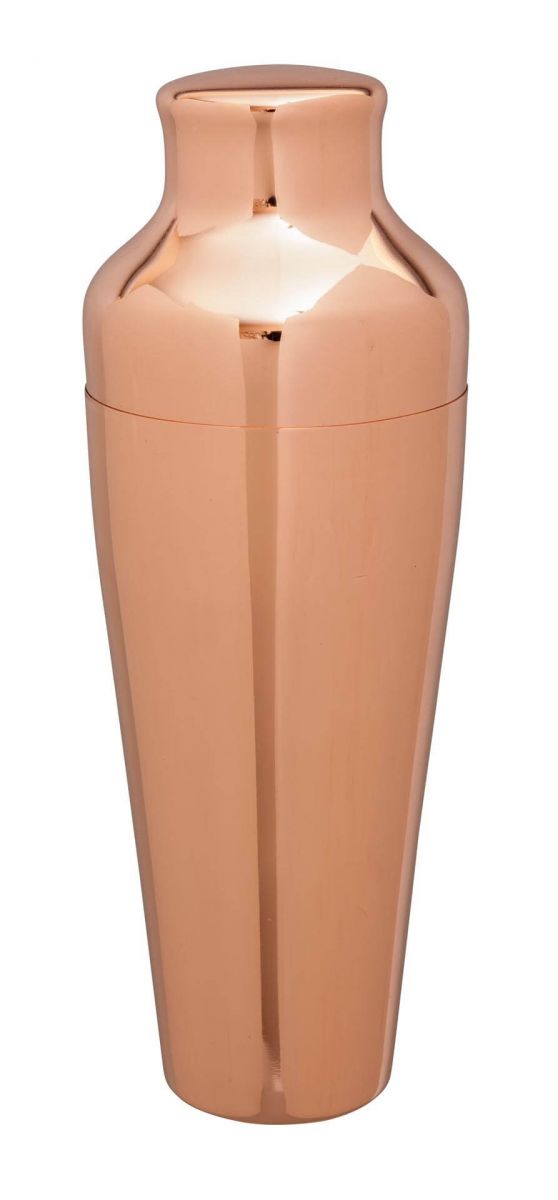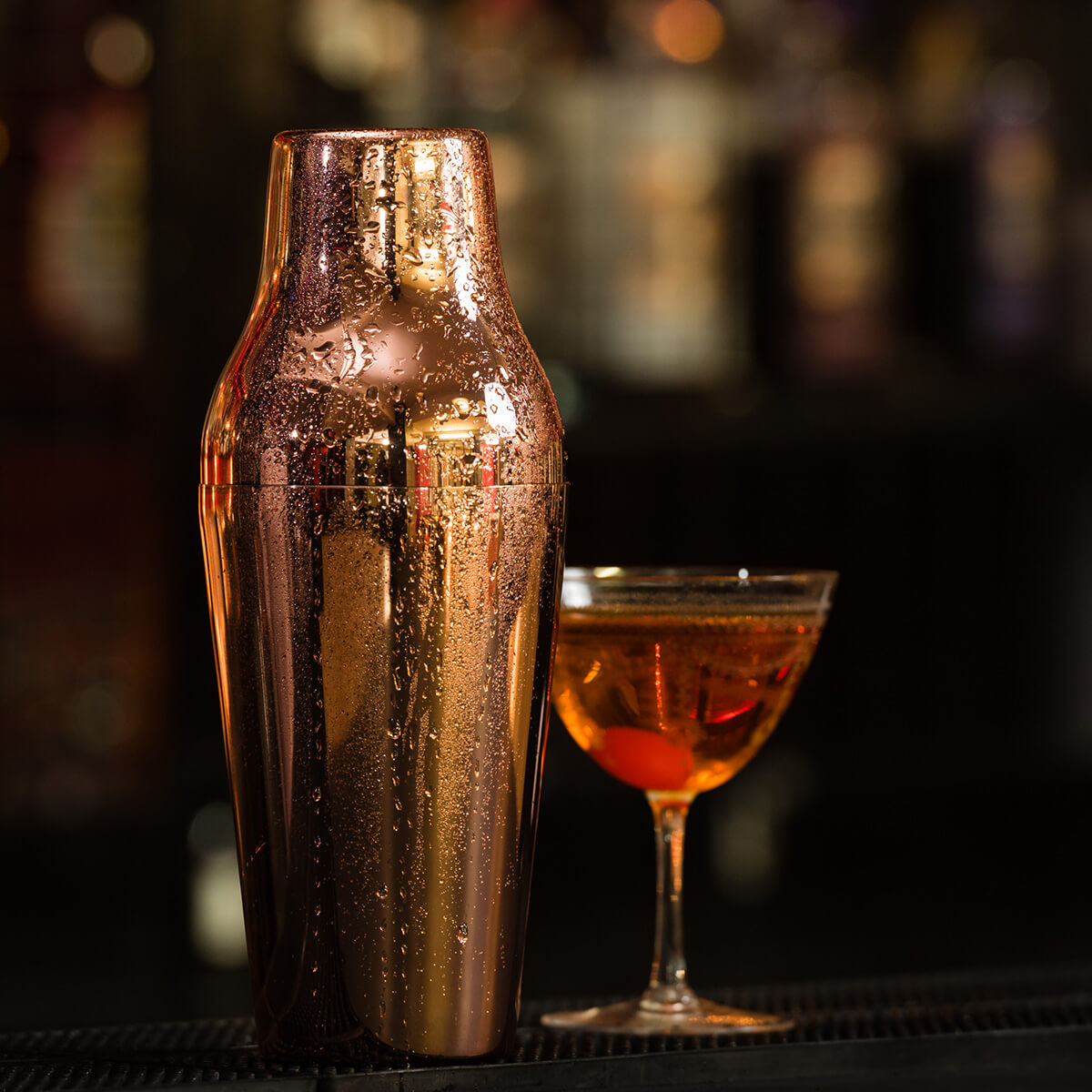 At BCE we stock an array of Cocktail Shakers. Shop online with us here to view our range of Barware and find the Cocktail Shakers we have that you can use in your Commercial Bar or At-Home Bar. Find the one that is right for you.
Or if you need to know more you can talk to our experts today about your Barware and Cocktail Shaker needs. We are here to help!!
---
Leave a comment