About Us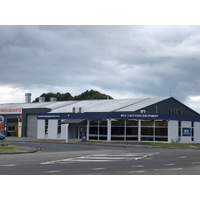 BCE Catering Equipment Ltd is a 100% New Zealand owned business founded in 2000 with a vision to provide the hospitality sector with exceptional service and quality products that was unequaled in the Wellington region.

Initially operating out of a sleep-out on the family property in Waikanae, BCE now has its main offices and warehouse in Paraparaumu, on the Kapiti Coast.

In 2002 Neil Thomson joined the business as a partner. Neil has an extensive background in the Catering and Hospitality industry, including Action Dimock, Henry Berry and Butler Gibpat.

In April 2012 Neil and his wife Siobhan purchased BCE Catering Equipment.

In addition to their experienced customer services team, BCE has reps covering Wellington, Wairarapa through to Taranaki. However the customer base is spread from Auckland to Invercargill and everywhere in between.

BCE's vision is still as strong today as it was when they started, combine this with their experience and knowledge of the industry and you've got a team you can count on.
Showroom
Our Showroom is located at 27 Milne Drive, Paraparaumu and can be seen from Kapiti Road just by the New State Highway One Northbound Offramp. Open hours are Monday to Thursday 8.30am to 5.00pm, to 4.30pm on Fridays.
Office phone 04 902 5223 Email sales@bce,net,nz
Sales Representatives
Matt Woodard 027 243 5628 Email matt@bce.net.nz Wellington, Hutt Valley and Porirua
Chris Macpherson 027 4435 622 Email chris@bce.net.nz Wellington, Hutt Valley and Porirua
Regan Lark 027 443 5626 Email regan@bce.net.nz Taranaki, Wanganui, Palmerston North and Kapiti
Neil Thomson 027 2435 627 Email neil@bce.net.nz Wellington CBD and contracts.