Colour Coding your Kitchen
Author: Siobhan Thomson Date Posted:19 May 2021

A busy commercial kitchen needs to be organised, safe and incredibly clean. Not only to meet hygiene standards, but the exacting demands of today's culinary environment.
Colour coding is a crucial part in preventing cross contamination between different food types, including raw and cooked foods that could cause food poisoning and it is an important way of ensuring food hygiene and safety in a commercial kitchen. Preventing food contamination is an important job that anyone who prepares or cooks food and drinks should always be conscious of.
A great place to start is with your knives and cutting boards.
Knives and Cutting Boards
The wide variety of types of foods makes cutting boards and knives a risky area where cross-contamination could easily occur. The use of colour coded knives and cutting boards, as well as a suitable wall chart can help your team avoid cross contamination. It's done by only using knives and boards for the food types they are labelled for.
This is also relevant when it comes to catering for a vegetarian diet, vegan diet, or people who follow food traditions like Halal or Kosher diets. Purple colour coded knives and chopping boards are generally used for Gluten free products to prevent cross contamination.
Here's a guide as to what colour should be used for what food preparation: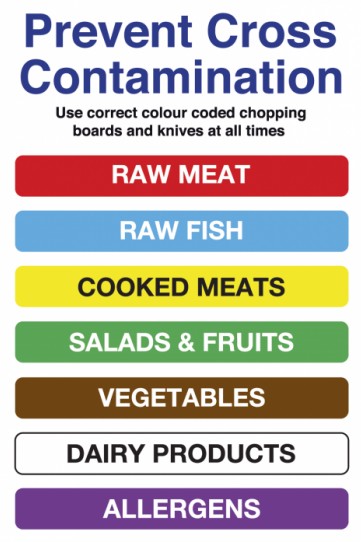 White – This colour is best used for bakery items, pastry and dairy. Prepare bread, pastries and cheese on white boards and use white handled knives. Don't use the same boards or utensils for eggs which should be kept separately as they contain salmonella bacteria.

Yellow – Yellow boards and yellow handled knives should only be used for cooked meats. Cooked meat must always be kept separately from raw meat as once it's cooked, the bacteria will have been removed so you don't want to run the risk of contaminating it.

Red – This colour is especially for raw meat. Purchase red chopping boards and red handled knives. Be extremely vigilant when preparing raw meat and keep it away from other areas of food preparation so there's no risk of contamination. Areas where raw meat has been prepared must be cleaned and sanitised immediately after use.

Blue – You should use blue handled knives and chopping boards for raw fish and always keep raw fish away from raw meat because fish is a common allergen. If you are frying fish, make sure the deep fat fryer you use isn't used for anything else. It's a good idea to have a second deep fat fryer for other fried food such as chicken or chips/French fries.

Green – Use green boards and knives with green handles for fruit and salad.

Brown – Have brown chopping boards and knives available for all your vegetable preparation.
Tongs and Serving Cutlery
Tongs are very handy – ideal for grabbing cold, hot, wet or dry foods and moving them elsewhere. They're ideal for speeding up the preparation processes or for serving food directly to your customers. However their ease of use can also be their downfall, as it's also easy to cross-contaminate foods with a pair of tongs or other serving cutlery. Colour coded tongs can help prevent this occurring. At BCE we have a great selection of Vollrath tongs that are colour coded for this very purpose.
You can also add colour coded labels to your kitchen too and use these for your refrigerated food stores, labelling them by day so your staff know what should be used first according to the colour label.
Colour coding your kitchen can help keep your work space organised, clean and hygienic. Preventing food contamination and food poisoning is a crucial part of a commercial kitchens day to day processes. Putting a clear colour-coding system in place will help you maintain a high standard of food safety.
---
Leave a comment